$4 US shipping. Int'l shipping calculated by destination. Minimum order of $10 US or $20 Int'l (pre-shipping) please.
Please note that once our transaction is completed and feedback is left by both parties, I will delete all comments on this thread to keep it neat & tidy.


Special offers marked in blue
Strikethrough is pending



Rare BPALs
NEW Dublin (1/2 original lab imp) - make an offer on this uber-rare, discontinued blend The scent of misty forests, damp alder leaf, and the gentlest touch of white rose.


2012 Halloweenie sniffie set! Sold as a lot only.

Halloween @ Innsmouth, Halloween @ Misk U, Wolf Spider, Goldenrod Crab Spider, Orb Weaver Spider, Pumpkin I, II, III, IV, V, Tears of Lilith = 11 testers (abt 1/5 full) for $5, or free with $25 purchase
Lab-Full 5mls
NEW Day of Skulls '08 $17 - White sandalwood, beeswax, and frankincense crowned by hydrangea, rose, and kantuta blossoms, dressed with tobacco, cocoa leaves and flowers from the sacred Cactus of the Four Winds.
NEW Carnaval Diabolique Snake Pit: Death Adder $20 - Snake Oil with vetiver, black coconut, vanilla, and opoponax.

NEW Single Note: Golgothan Myrrh $25

Fuwu Bansaku in Ruined Temple With Black Monster on Umbrella (SakuraCon 2010 Exclusive) $17 - Black coconut, red sandalwood, black currant, tonka bean, vetiver, and Malasian oude.

Partial 5mls

Doozers (50%) $11 - The scent of industrious cooperation: glittering crystals, soft soil, and radish dust.

An Omen of Good Fortune (50%) $11 - Black tea, mango blossom, wolfberry, oakmoss, and star anise.
NEW Zmey Gorynych (50%) $11 - A robust, lewd, and powerful blend of daemonorops resin, red musk, amber incense, galbanum, frankincense, and creaking leather that has dusted with gold and limned with tunda frost.

Low Partial 5mls

Blood Moon '11 (30%) $5 - A Lunacy inspired by the magnificently morbid fantasies of Edgar Allan Poe: laudanum-stained linen scented by an ink-smeared tobacco musk and phantom bloodstains illuminated by monstrous moonlight.
LE/DC decants, full unless noted (full - $3, 1/2 - $2)
NEW Alice in the Pumpkin Patch
The Aurora Spaceship Takes A Dive
Bernardino Dotted Blue
Boadicea v9 x2
Cloth of Gold
Contemplating the Moon Through an Open Window (1/2)
Eanach Dhuin
SN: Evening Stock (1/2)
Goneril (1/2)
Kagema (1/2)
NEW Lindworm
Love in the Asylum (30-40%ish) $1.75
Lunar Eclipse
Mechanical Phoenix
NEW Mori Girl
Noh Mask and Maple Leaves
Post-Mortem Laureatus (1/2)
Sanctus
The Seekim (1/2) stained label
NEW Shadow Witch Orchid
Sic Erit (1/2)
The Soul of La Traviata
NEW Third Charm
NEW Whoop (1/2)
GC imps, full unless noted (full - $2, 1/2 - $1)

Anathema
Bathsheba
NEW Chaotic
Dragon's Hide x2
Endymion
Fae x2
Fallen
Frumious Bandersnatch
La Belle Au Bois Dormant
Les Infortunes De La Vertu
Namaste x2
Old Scratch
Omen
The Temptation
'Tis the Voice of the Lobster
Tweedledum
Yorick
Odds n' Ends Testers/Sniffies (pick one per $10 worth of swap/purchase - 2 per $20, etc)

Breathless Horror sniffie (ratty label)
Inextinguishable Hatred sniffie
Epistrophia sniffie bottle
Night's Bridge sniffie bottle
Witch Dance sniffie bottle
Misc Items
NEW

BPTP Bah Humbug
Atmo
(squirt size, 1/2)
BPTP Honey Hair Gloss
(original bottle, basically empty) - $1
BPTP Aphrodite Eyrkine Atmo
(1 oz) - $6
Blood orange, ylang ylang, red musk, jasmine, and mimosa.
NEW

BPTP The Path of Dreams Atmo (1/2 oz) - $4
Wisteria, ti, peach tree leaf, osmanthus, hinoki wood, bergamot, night-blooming jasmine, and ume blossoms.



NEW

BPTP The Storyteller's Parlor Atmo (3/4 oz) - $5
A soft leather armchair, pipesmoke, crackling firewood, and a snifter of brandy.
BPTP Aphrodite Kypria
(1/3 oz) - $3.50
Egyptian musk, Ceylon cinnamon, cassia, and bourbon vanilla.
---
I measure fill levels according to this photo: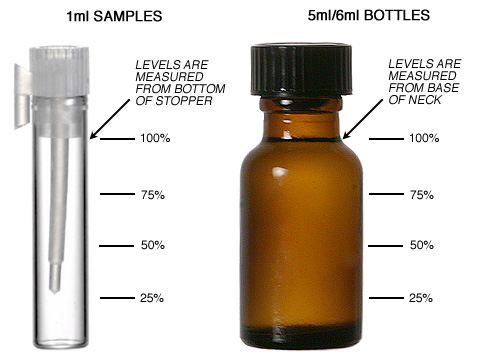 ---
Swapping & ISOs
Not ISO anything right now, but I'm planning on getting a list together soon